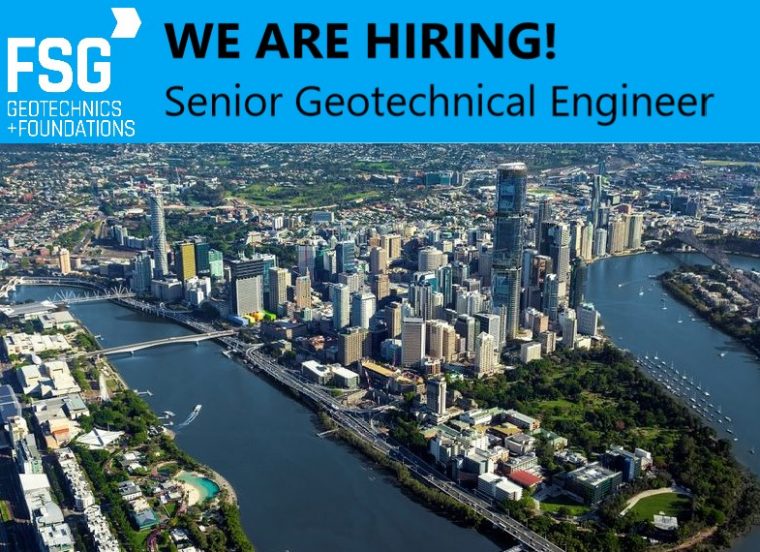 FSG is a dynamic, rapidly expanding geotechnical specialist with a focus on technical excellence and innovation. We are seeking a Senior Geotechnical Engineer (10+ years) to join our Brisbane team. If you are an Australian resident interested in working with a passionate and highly regarded geotechnical specialist working on major infrastructure projects, send your resume to contact@fsg-geotechnics.com.au
Key duties and responsibilities include:
Project management of a wide variety of geotechnical projects
Interpret geotechnical field and laboratory reports. Geotechnical reporting may include the following:
– Foundation and basement design for medium to large industrial developments and multi-storey developments
– Earthworks, ground improvement, foundation design and development associated with highways, railways, bridges and ports
Perform analysis and draw conclusions/recommendations e.g.
– Settlement analysis
– Stability analysis – limit equilibrium with some experience in finite element modelling
– Bearing capacity analysis
– Pile capacity analysis – axial and lateral
– Ground improvement techniques for soft soil
Use judgment in making adaptations and modifications where required and in association with Senior/Principal Engineers
Develop client relationships and build business
Prepare proposals including determining methodology and compilation of cost estimations
Supervise, coordinate and review activities carried out by junior engineers
Identify safety hazards and report OH&S incidents
Skills and Qualifications: 
Bachelor Degree in Civil Engineering or related discipline (post graduate qualifications considered beneficial)
Fieldwork experience in various geological conditions
Advanced analytical and problem solving skills
Well-developed interpersonal skills
Proven record of independent work and ability to work effectively within a team environment
Proven track record of working on large, intermediate and small size jobs in a cross a variety of sectors
Benefits of being part of the FSG team include:
Competitive benefits and remuneration packages
Employee owned structure
A focus on technical excellence rather than corporate processes
Exposure to a wide variety of technically challenging projects
The opportunity to work with, and receive mentoring from, recognised industry experts.