Sector: Energy & Communications
Client: Downer for Neoen
Services Provided
Piling and Geotechnical Review, Pile Design, Static Pile Testing, Development of Acceptance Procedures, Pile sign-off
Project Brief
The Numurkah Solar Farm is located just north of Shepparton and will generate over 100MW of electricity.
Site Geology and Challenges
Ground conditions comprised stiff to very stiff silty clays of the alluvial Shepparton Formation, underlying a thin veneer of topsoil. Site investigation data was limited, both in quality and extent.
Tight procurement time frames meant that pile design was a critical path activity requiring a quick turn around to allow procurement to commence.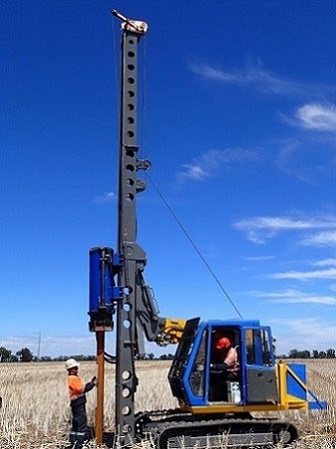 Scope of Works
FSG reviewed the available geotechnical information and made recommendations for further testing and site assessments. Due to tight time frames for procurement, limited time was available to complete further site investigation, and therefore pile design was based on a series of static pile tests at the site, which could be completed with faster turn around than  conventional ground investigation.
Based on the results of the pile testing program, pile design was completed for the site. This included a site-specific assessment of TMI and climatic conditions, to help manage the risks of short piles founded through the active zone.
Following design for the photovoltaic tracker piles, designs were also completed for foundations for the PCS units across the site.
Conclusions
FSG's collaborative approach to review, design and testing meant that construction challenges could be readily understood,
options investigated, and a 'best-for-project' outcomes achieved.
Our flexible approach to solving problems meant that we were able to adapt when the need arose; for example, pile testing regimes could be modified to suit changes in plant and personnel on site.
FSG successfully managed a detailed project review process involving multiple stakeholders in a challenging and dynamic project setting.
Finally, FSG supported the construction phase of the project, through site visits, development of pile testing and verification procedures for production piles, and sign-off of production piles via review of data obtained from the construction team.