PDM Pile Test and Deflection Monitoring
The PDM is an innovative device based on optically safe, LED opto-electronic technology.
The PDM has been developed to accurately measure (±0.1mm) the vertical deflection of any moving object (pile) by tracking a reflective sticker attached to that object. The measurement is non-contact, meaning that field personnel are no longer required to stand under working piling hammers to measure set and temporary compression (TC). By correlation with PDA testing, the PDM can also estimate impact energy, thus significantly improving both the safety and reliability of driven pile installation and certification.
FSG operates ten PDM units for a wide range of project needs, providing unique abilities and solutions across the Civil Engineering field including:
Pile Capacity
In conjunction with PDA testing of representative piles, the PDM can be used to provide a safe, cheap and fast capacity estimate for each and every pile installed. The PDM provides real-time pile capacity evaluation during driving or on restrike. QA/QC documentation is available within seconds. PDM is rapidly replacing the traditional method of driven pile verification (manual measurement of Set and TC) on Australian infrastructure projects.
Marine Piling Monitoring
Monitoring pile set in marine conditions is difficult, however measurement of temporary compression (TC) which is important for pile capacity evaluation, has not been possible until now. With the PDM, measurement of set and TC for marine piles is now possible from distances of up to 15m. The PDM can be positioned on a stable location – land, wharf, jack-up platform or previously driven pile or pile bent. With the marine piling software module the PDM can calculate set and TC from floating plant.
Hammer Monitoring
The PDM is not restricted to monitoring driven piles – it can also be used to measure the ram impact to measure hammer efficiency, velocity or monitor the complete hammer cycle to confirm hammer stroke (STR), optimize hammer operation by adjusting delay time (DEL), or troubleshoot hammer operation.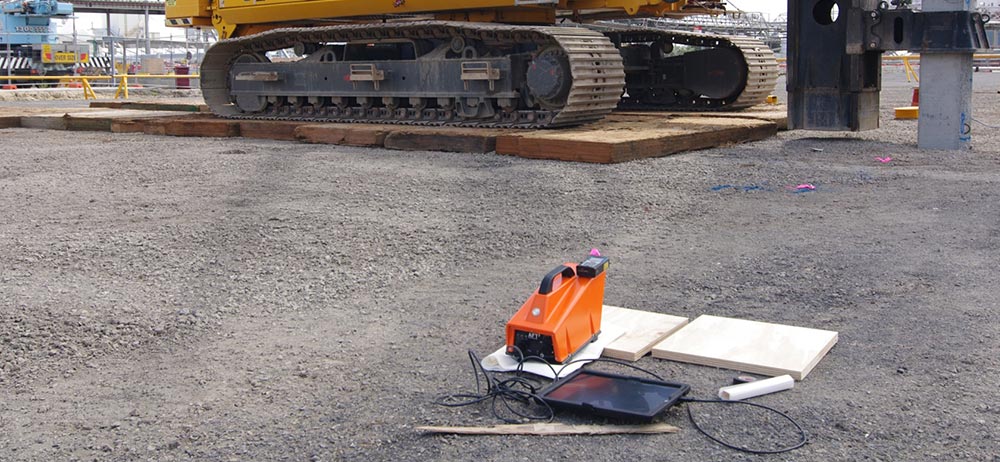 SPT Monitoring
The PDM can be used to monitor SPT site investigation testing. The PDM records hammer energy, hammer impact velocity, SPT blow count, set vs penetration, SPT analysis and energy correction. There is no need for gauges and cabling, and the results are stable and unaffected by the high accelerations of the steel on steel impact. This enables calibration of these notoriously inconsistent, yet critical, site investigation tools.
Static Load Test and Monitoring
The PDM can be used to monitor deflections during static load testing to an accuracy of +/- 0.1mm. The non-contact measurement methodology can eliminate the need for reference beams and time consuming equipment set-ups.
Rail Infrastructure Monitoring
The PDM can be used to monitor deflections of rail, sleepers or settlement plates in the formation under live rail traffic loading providing data which up until now has been unavailable to rail track designers.
For more information about the Pile Driving Monitor (PDM) visit piledrivingmonitor.com.au